Discover the best Betway deposit methods for fast and convenient transactions with minimal charges.
Minimum deposit: GHS 1 Maximum bonus: GHS 200 Wagering requirements: 3x Odds: 3 or higher. Minimum quote: GHS 1 Duration of bonus: 30 days of first deposit Exclusion for some games: Any free bet balance is forfeited as soon as you make a withdrawal Offer is only available to accounts opened after July 7, 2021
How to Make a Deposit at Betway?
We will show you some step-by-step guides to depositing funds into your account. But there are full details on the Betway Ghana site relating to every deposit and withdrawal method available.
How to Deposit Using Airtel Tigo, MTN USSD, and Vodafone?
First, dial the relevant number – check with the payment method you are using for this.
Select 'pay bill,' 'make payments, ' or similar.
Select 'betting and games' or similar.
Then, choose Betway as your deposit destination.
Finally, enter the amount you want to deposit and enter a pin number or reference as required.

How to Deposit Funds Using MTN Online, Vodafone Online and Airtel Tigo Online?
If you use any of these payment methods to deposit funds, you need to follow the following procedure:
Log into your Betway customer account.
Go to My Account and click on deposit funds.
Select the relevant payment method from the list.
Choose how much you would like to deposit and click 'Deposit Now'.
You will then receive an approval request on your phone.
Enter your pin number to approve the deposit.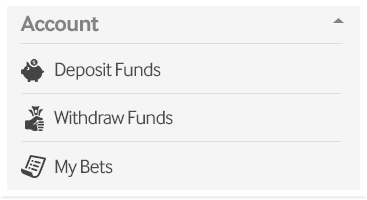 How to Deposit Using Visa and MasterCard?
If you have a Visa or MasterCard card, you can deposit your money by first logging into your Betway account and click on deposit.
Select debit or credit card from the list.
Decide on an amount to deposit into your account and click on proceed.
Then, enter the details and approve the payment.
Finally, you may need to complete your bank's authorization process.
Check the Betway Ghana site for all payment methods available and a full guide to depositing funds.

What is Betway Minimum Deposit?
The minimum amount you can deposit into your Betway Ghana account depends on your payment method.
For Betway Top up, G-Money, Visa and MasterCard debit cards, and Visa and MasterCard credit cards, it is 2.00 GSH.
For MTN Mobile Money, Vodafone, Airtel Tigo, Betway Momo Multifund, and Betway USSD, the minimum amount is 1.00 GSH.
What is Betway Deposit Limit?
The minimum deposit limit at Betway depends on the banking option you use. For the mobile money options, the minimum limit is 1.00 GSH. For banking cards, the Betway minimum deposit is 2.00 GSH. The maximum deposit also varies significantly depending on the payment method.
For instance, the maximum limit for Vodafone, Airtel Tigo, G-Money, and Betway Momo Multifund is 2000 GHS. The maximum deposit limit for MTN Mobile Money and Betway USSD is 5,000. The remaining options, including Betway Top up, Debit, and Credit cards, have a massive limit of 1,000,000 GHS.
How Long Does Betway Deposit Take?
All deposits will be credited to your account instantly, irrespective of the payment option. Players could witness a delay of up to 48 hours if there was a maintenance process or a network problem at the time of the transaction. If the deposit time delays beyond this period, the bookmaker can refund the money back to your Mobile Money wallet.
Betway Deposit Problems
Before placing a bet at Betway, the account will prompt you to stake with real money. However, sometimes you may run into problems while trying to fund your account. This means you need to find a solution to deposit money and proceed with the betting activities.
Below are some of the problems you will likely encounter during making the deposit. The possible solutions have also been highlighted.
Connectivity challenges
While depositing, you are likely to experience delays if your connection is poor. Ordinarily, the Betway deposit time should be less than a minute, but a network problem may increase the period up to 48 hours of delay. To solve this problem, make sure you acquire a good network provider.
You can change the provider if the current one has limited reach in your area. If you are using cabled internet, just confirm that all your installations are fitted correctly.
Site maintenance
Betway performs site maintenance regularly to boost its functionality. You can likely initiate the deposit procedure when the site is undergoing maintenance. Usually, the bookmaker may shut down all features or some of them.
Bettors will experience lapses in the deposit transactions, and sometimes the process will fail completely.
Contact customer support to provide an alternative deposit option. They can also inform you about the time when the site will resume normal operations for you to complete the transactions.
Failure to comply with the limits
All deposit methods have unique minimum and maximum limits. While depositing, a player is likely to go beyond or below a certain limit for a particular banking option. The system will automatically decline all your requests.
You can overcome these deposit problems by finding accurate information from the site. The deposit section has a list of payment methods listed against their minimum and maximum limits. The FAQs section has additional information about how to deposit. Review this section for a full guide to the deposit limits.
Challenges on the mobile operator's side
Mobile network operators support most Betway deposit methods in Ghana. There are instances where the operator experiences intermittence. Unfortunately, this problem will cut across all subscribers who use their payment platform. If the mobile operator is having problems, players have no control.
The only solution is to wait for a few hours or switch to a different mobile operator.
Betway Deposit FAQs
You can increase your betting limit by choosing a different payment method that suits your bankroll.
Navigate to the 'My Account' section to find your account number.
There could be a few maintenance issues on the site or a problem with your internet connectivity.