In sports betting, bettors often use the term high odds in reference to their bet. In this high odds article, we cover the meaning of this betting term.
---
Contents
---
What Are the High Odds?
Firstly, we define these odds and some examples of how they appear in sports betting. These odds refer to a wager that has a big potential payout. However, this type of bet comes with betting odds that make the outcome unlikely.
Often, bookmakers give these odds to an underdog in a sports match. In contrast, the pre-match favourite is given low odds. Ultimately, both odds refer to the likelihood of a team or player winning a contest.
For example, in a match between Man City and Norwich, the betting site is likely to provide Norwich with the longer pre-match odds. As a result, the bookmaker shows that Norwich are unlikely to win the match. However, if Norwich won the match, the returns would be high.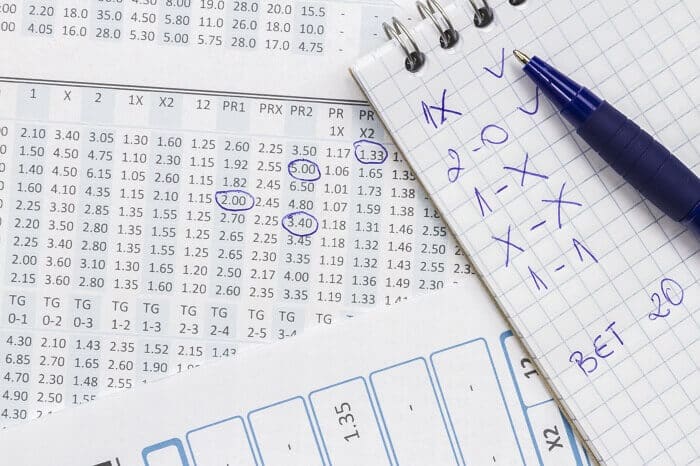 How to Bet on High Odds?
Ultimately, both novice and experienced bettors can wager on this type of odds as their chosen betting strategy. But, to make a prediction, players must have an account with a bookmaker. In addition, the bettor needs funds in their accounts to place a high odds stake on their chosen wager.
Then, once a player has settled on the odds prediction they want to make, they can set their wager amount. To finish, bettors must confirm their bet and stake.
However, players can browse the bookmaker's odds on most betting sites without signing up and placing wagers. By doing this, bettors can compare and contrast different bookmakers' values when posting odds.
Where Can I Bet on High Odds?
How to Calculate High Odds?
Bettors often use calculations to make high odds soccer predictions and other sports. Generally, using calculations adds an element of probability to a bet with this kind of odds.
To calculate the probability percentage of a bet, players can divide 100 by the bookmaker's odds. For example, if a betting provider offers 3.5 odds for a team to win, bettors divide 100 by 3.5, which gives them a 28% chance of winning.
Usually, any odds that give a team or sports player a 25% chance or less of winning are considered high odds. In sports betting, a 25% probability is reflected by 4,0 odds.
High Odds Accumulator Tips
When making a bet, players can utilise different strategies and tips to make more rounded decisions rather than relying on luck. Below, we share some of our top high odds accumulator tips to help bettors who wish to use this betting technique.
Use Odds Comparison Tools
Firstly, one of the easiest ways to see whether bookmakers agree on a team's chances through odds is to use odds comparison tools. Through these platforms, bettors can see what odds each betting provider offers for a match.
Then, players can see whether higher odds are offered across the board and find value. Alternatively, bettors can browse a few betting platforms to compare odds. Even cross-checking two or three websites can show different odds for the same match.
Use a Lower Stake
A common high odds strategy is to use low stakes on odds that are higher for a sports bet. Generally, because odds that are high offer bigger returns, players can outlay smaller stakes on their bet.
Ultimately, there is a higher element of risk in backing the underdog in sports betting. As a result, bettors take steps to limit the risk by placing a smaller stake.
Stick to Teams you Know
Often, bettors follow specific sports teams or players that they then wager on. Usually, fans of specific teams and players have more in-depth knowledge of their tactics and form. As a result, bettors can make more careful choices when betting on their preferred teams.
Check Team Form and News
Today, players can access up to date statistics, news and previews ahead of big sporting events and fixtures. Furthermore, bettors can utilise these when making betting decisions for outright winners.
By checking if key players are out injured or whether a team or sports player has changed coach, bettors can see the context leading up to a fixture. Also, by looking at recent results, even the last two or three, players can see how well a team is performing.
For instance, if one team is the underdog with the higher odds and they've lost their last three matches, their chances of winning are low.
Lessen High Odds Accumulator Selections
Sometimes, bettors want to select high accumulator odds. In an accumulator, players select the outcomes of multiple bets. However, all the selections must come in for the bet to work.
When using odds that are high for an accumulator bet, players should consider making less selections. For instance, if a bettor backs five teams to win with higher odds, the chances are extremely low. Alternatively, two accumulator choices have a much better chance of winning.
Track Progress
When committing to any betting strategy, it is important to keep track of progress. Through this strategy, bettors can see what works well and what doesn't. As a result, they can make informed decisions about what to do next when placing wagers.
For odds that are higher, bettors can also see more in-depth and specific trends in their betting activity. For example, over time, a player may notice they have success when backing odds that are higher for a specific team.
FAQs
In this section, we answer some of the most frequent questions asked about this betting term and its strategy.
Are high odds good or bad?
Generally, no odds or good or bad when betting on sports. Sometimes, higher odds show good value and other times they show bad value. Overall, bettors take risks with any sports bet, whether it has high or low odds.

This is because sports events do not always produce exact outcomes. However, with some considered approaches and strategies, bettors can make informed decisions about whether the odds are good or bad.
Which bet site has the highest odds?
Usually, the best betting sites that have odds that are high will vary. However, the more a bettor uses different betting sites and odds comparison tools, the more they can look for the best odds that are high. In addition, some providers offer price boosts on odds that can produce higher than average odds.
How to predict high odds?
By using some quick calculations, bettors can see the probability of a bet. Generally, odds with a 25% chance of winning, or with 4.0 odds, are considered high. However, players can manually work out whether odds are high or not by dividing 100 by the bookmaker's odds.
Do odds increase over time?
Sometimes, odds will increase leading up to an event or match. Bookmakers occasionally increase or decrease odds pre-match. Often, this reflects something that could impact the outcome of the match. For example, if a team's star player gets injured two days before the match, their odds may become higher.