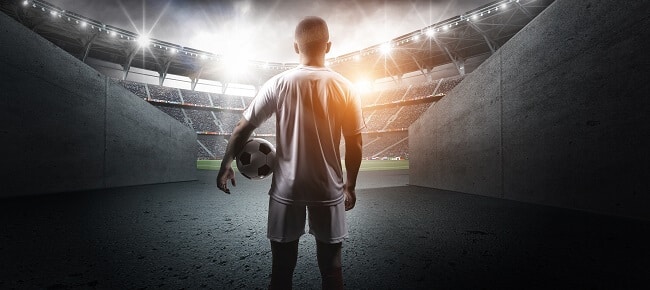 | Player Profile | Information |
| --- | --- |
| Name | Maxwell Abbey Quaye |
| Nationality | Ghanian |
| Date of Birth | 02/02/1998 |
| Club | Accra Great Olympics |
| Position | Forward |
---
---
History of Maxwell Abbey Quaye
Abbey Quaye is a major name in Ghana Premier League and among Ghanian footballers, but he is, perhaps, not as well known amongst European football fans. That's something the attacker is desperate to change before the end of his career. The 23-year-old was born in Accra, Ghana, on February 2, 1998 and his talent for football and scoring goals was noticed very early.
The 5ft 9inch forward burst onto the main stage in 2014 when he spent a year playing youth football for Global FC. It was there that his skills were noticed by scouts of bigger clubs, and when he was ready to become a professional footballer, Quaye wasn't short of offers. He eventually signed for Accra Great Olympics in 2015, and it's there he remains today.
Maxwell has already done enough to impress coaches and the national team, and he was picked to play for Ghana under 23 before moving to Ghana A and then the senior squad. He now battles alongside some of the leading names in African football for a place in the squad. Ghana aren't short of attacking options, but Maxwell is never too far out of the picture.
Maxwell Abbey Quaye in Ghana
Quaye signed professional terms with Accra Great Olympics in 2015 and has become something of a regular in their starting line-up. He plays in the team's biggest games and has scored some important goals during his employment.
He recently spoke to the footballing press of his desire to win the Ghana Premier League golden boot, and his form in recent seasons suggests it's only a matter of time before he achieves his dream.
Back in November of 2021, he became the first player this season to score a hattrick, helping his side beat the Acca Lions 3-1 in a derby grudge match. Maxwell was the difference that day, and although he impressed followers of the victors, his efforts didn't go unnoticed by bigger clubs across Europe.
The three goals scored wasn't the most impressive thing about his display in that win. It was the way he scored them and his efforts for the team. After giving Accra Great Olympics the lead, Quaye was seen battling around the field, pulling his weight in defence and attack. His opening goal in that win over Accra Lions was a sublime effort. He was then in the right place at the right time for the second, capitalising on an error from the goalkeeper before slotting home a third from the penalty spot to secure all three points.
Maxwell Abbey Quaye International Career
Quaye qualifies for Ghana as his nationality and place of birth, but if there was ever any doubt which nation he would choose to represent, it was settled when he turned out for the Ghana youth teams. Maxwell has limited experience playing for the Ghana senior team and hasn't featured nearly as much for his country as he has at club level.
He is hoping to score the Ghana Premier League goals needed to remedy that. If he can catch the eye of a major side in Europe, he could, perhaps, win a transfer and force his way into the mind of the Ghana manager ahead of the next African Cup of Nations.
That's easier said than done, of course, when he is competing with top names, including Jordan Ayew, for a starting slot. If Maxwell continues to score goals for his current employers, there's no doubt he will feature more for Ghana.
| Maxwell Abbey Quaye Teams | |
| --- | --- |
| Team | Period |
| Global FC | 2014-15 |
| Accra Great Olympics | 2015-present |
Where Can I Bet on the Next Matches Maxwell Abbey Quaye Will Take Part?
You'll find betting related to Quaye and games involving the striker available at a number of major online betting sites. Many of these bookies offer welcome bonus free bets, but it's crucial that you choose the bookie that is best for you.
You will often find Maxwell near the head of the betting to be first scorer in a Ghana Premier League match but some bookies may even offer special bets on this player, like to be called up for the next World Cup qualifier or to win a move to England.
FAQs about Maxwell Abbey Quaye
Where is Maxwell Abbey Quaye from?
He was born in Accra, Ghana, in 1998.
What is Maxwell Abbey Quaye's current club?
He currently plays for Accra Great Olympics and has done so for his entire career.
Is Maxwell Abbey Quaye a left or right footer? 
Maxwell is a right footer who prefers to take on shots at goal with that foot but has scored using his left foot in the past.
What is Maxwell Abbey Quaye jersey number?
Maxwell currently places for the Great Olympics with the jersey number seven.
What are Maxwell Abbey Quaye awards? 
There are no major achievements or awards credited to this player by any reliable source at present.